How to buy a bra for your wedding or special occasion dress.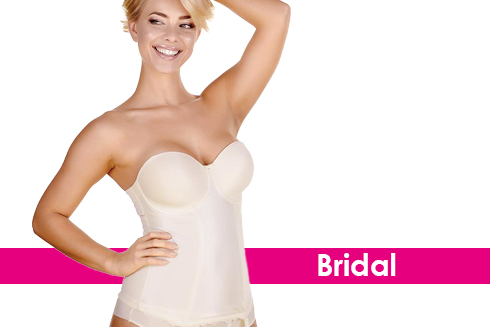 How to buy a bra for your wedding or special occasion dress.
We know that full-busted women can struggle to find the right bra for everyday, never mind the right bra for one of the most important days of her life.
Here are some of our tips and solutions for your special day.
1. Get fit!
If you know your bra size and are happy with the fit of your current everyday bras, you're one step ahead, but if you're a bit unsure about your bra size, we'd recommend to stop in to have a bra fitting in one of our two shops, or arrange to call us on Skype to help you find the right size.
2. Know your options.
Knowing your bra size and your bra options before you even go shopping for your dress may help you more easily find the right style of dress to feel comfortable and confident all day long. Try on a variety of bras to see what's most comfortable and supportive for you. Does a halter-style bra put too much pressure on your neck? Does a strapless bra feel safe and secure, or do you feel like you may be pulling on it to stay up? Could a demi/half-cup bra work, and do the shoulder straps feel like they'll stay in place? Will the boning or detailing on a basque show through the styles of dresses that you prefer?
Products:
Marie Jo Avero
,
Panache Lingerie Evie Bridal
,
Aubade Bahia
3. Travel with your bra!
Take your best fitting, or favourite style of bra with you when shopping for your dress. You'll see how the dress fits through the bust, any possible alterations or adjustments that may need to be done. If you've already purchased your dress, if you can try on a few different styles of bras underneath, there may be one that looks better, or reduces alterations, more than another. It's also important to note that if you are needing alterations on your dress, you should be wearing the bra you plan to wear with the dress for all of your dress fittings - and don't forget to bring your shoes too!
4. Break it in.
The last thing you want to do on your special day is to fuss with your bra. If you can, wash and wear it before the day to make sure you find it comfortable and supportive, and that it's adjusted the way you prefer. We also suggest to wash and try your bottoms as well! If you have a dress with many layers, and your new bottoms like to crawl or shift, knowing in advance might save you from nightmare knickers on your special day.
5. Accessories are totally optional.
It's your day, your dress — be you and be comfortable! If you have a figure-hugging dress, you may want to try smoothing shapewear pieces that smooth out any lumps and bumps and hide panty-lines, or keep your thighs from chafing. Not sure what shapewear style might be right for you, or your dress? Check out our post here on the different types of
shapewear
available.
If you're wanting to wear stockings with your dress, you have a few options. You can choose stay-ups which have the sticky rubber grip at the top of the legs to keep put. Regular stockings do not have the rubber grip and will need to be kept in place with the suspender grips found on a suspender/garter belt, or on many basques, and even the odd knicker.
When putting the stockings on, it's important to make sure that the grips fall directly below where they attach to the garment. If you have the clip off to the side, you may feel like it's twisting and pulling all day underneath your dress.
Another important tip is to layer your knickers over top of your
suspender belt
and stockings. This will make it easier for trips to the washroom, especially if you have a long or layered dress.
Leg garters
are a popular tradition for weddings. The tradition is that the bride will wear this on her leg during the wedding day, with her groom removing it during the evening reception. It will be tossed to the single men guests, with the idea that the man who catches it will be the next person to marry.
Products:
PrimaDonna Couture
,
Freya Deco Darling
We hope you find this information helpful in knowing more about how to purchase a bra for your wedding or special occasion dress, and as always, if you have any questions, please
contact us
for advice.